Clorox® Disinfecting Bio Stain & Odor Remover is perfect for disinfecting and removing the toughest odors and stains in one step. This bleach-free stain and odor remover uses hydrogen peroxide technology to kill norovirus, E. coli, Salmonella and Hepatitis C that may be found in human and animal bio soils. Product is available in a trigger spray, pull top and gallon refill. Compliant with OSHA Bloodborne Pathogens standard, this product works great on stains from blood, feces, vomit and urine. This versatile disinfectant can be used to clean a variety of hard and soft surfaces. With Smart Tube® Technology, you are guaranteed to spray every drop. This product is great for Long Term Care Facilities, Schools, Lodging, Veterinary Clinics, and Child Care Centers.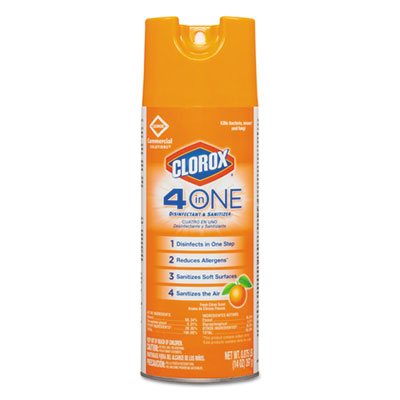 Accomplish more with less in your cleaning routine.
Clean and disinfect multiple surfaces without having to use multiple products. Clorox 4 in One Disinfectant & Sanitizer aerosol quickly disinfects hard surfaces, sanitizes soft surfaces and sanitizes the air — with no pre-cleaning required. Kill 24 germs of concern on hard surfaces, such as door knobs, garbage cans, tv remotes and telephones. Sanitize soft surfaces, such as curtains, chairs, mattresses and rugs, in just 30 seconds. Eliminate odor-causing bacteria in the air and reduce key common allergens.*

*Cockroach matter, dust mite matter, dog and cat dander.